RUSSELL HOBBS BRIGHTS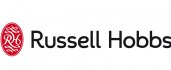 Item: 13999
Designed with convenience and safety in mind, this highly functional Iron features a 240ml water tank and comes supplied with a jug, so there is no need to transport the iron whilst in the middle of an ironing session: simply fetch water for your next refill and leave the iron safely on the board. For your most prized pieces of clothing, rest assured that they will remain stain-free with the handy anti-drip function that prevents any nuisance water leakage, allowing you to iron with confidence.
.

Unavailable
Product Description
Colour: Pink
Power: 2400 Watt
Water Tank Capacity: 0.24 Litres
Steam Rate: 30 Grams/Minute
Steam Shot: 90 Grams/Minute
Anti Scale: No
Auto Shut Off: No
Features: Ceramic soleplate Continuous steam output of 30 grams per minute Water spray and steam shot at 90 grams per minute Special anti-drip technology
Dimensions: 26.4cm x 11.2cm x 13.5m (H x W x D)
Warranty Information
1 Year Manufacturer Warranty
Custom Delivery Required
Delivery price on application.
People who bought this also bought...