---
2502 Cotton Vest
Women's Undervest by NATURANA. Part of the cotton collection. It's very breathable and absorbent. A 100% fine-ribbed undershirt with fine floral embroidery around the neckline. This product is also long enough to cover the bottom.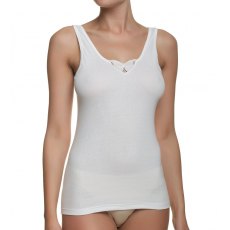 802530 Cotton Vest 2 Pack
Naturana 2 Pack Built Up Shoulder Cotton Vest Style: 802530. Colour: White. Women's undervest/undershirt by Naturana. Made of 100% cotton. Flattering and skin-friendly. Floral embroidery around the neckline provides a fine elegance. Wide straps.