---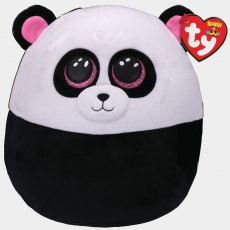 BAMBOO PANDA
Meet Bamboo the Squish A Boo. This cute cuddly friend is so soft and easy to squeeze. With pink sparkle eyes and pink accented ears. Take Bamboo along on road trips or wherever you go. Bamboo will surely steal your heart.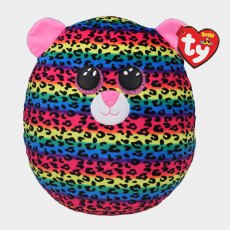 DOTTY LEOPARD
What is better than a classic Ty Beanie Boo? A new Dotty Squish-A-Boo. Dotty likes to stand out in a crowd with her multicolored spots. Dotty is fun loving and ready for action. Grab her and off you go for a day of fun or relaxation.
---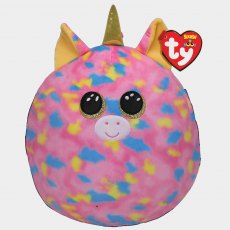 FANTASIA UNICORN
Everybody loves Fantasia! Now available as a Squish-A-Boo. Candy colored one of a kind fabric that is buttery soft. Tell Fantasia all your secrets and giver her a big hug. With her sparkly unicorn horn, Fantasia is the magical queen of the unicorns.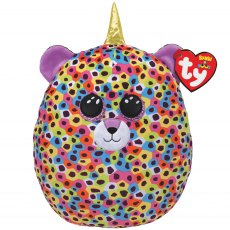 GISELLE LEOPARD
Giselle is the friendliest character around! A leopard or a unicorn, we can call her a leopardcorn. Endless fun for your imagination. Giselle's colorful spots really stand out in a crowd. Made with the softest material, and so soft and huggable. Giselle features a gold unicorn horn atop her leopard spots. A sure crowd pleaser.
---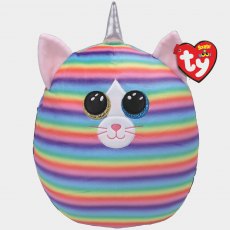 HEATHER CAT
Check out this adorable catacorn. Heather wants to share in all your favorite adventures. This pretty rainbow striped cat features the softest fabric, a silver horn, and look at those two different colored eyes. Unique in every way, Heather will be by your side at work or play.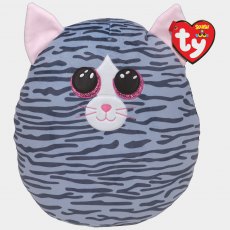 KIKI CAT
The ever popular Kiki has been transformed to an Squish-A-Boo. Kiki's super soft gray striped fabric will make you want to hug her all day long. Kiki is happy to help you feel warm and cozy. Give her a squeeze and you will be forever friends.
---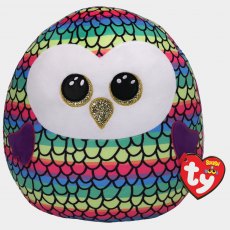 OWEN OWL
Owen the owl has been transformed into an adorable Squish-A-Boo. This lovable owl is ready for hugs and adventure. Go ahead and give Owen a great big hug and you will feel wonderful.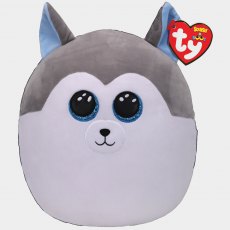 SLUSH HUSKY
Take Slush with you wherever you go. Slush is one of the most popular Beanie Boos and has been jazzed up to be a new Squish-A-Boo. Grey and white he is easy to love with his adorable ears and eyes. Made with buttery soft fabric Slush is a great addition to your Ty collection.
---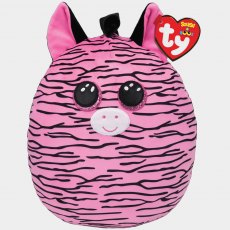 ZOEY ZEBRA
Zoey is quite the fascinating zebra that is pink with black stripes. Whisper all your secrets for Zoey to hear, she will keep them safe all year. Her ears, large eyes and black mane are her distinction to fame. Zoey has a lot of love to share, so give her a hug and she will always be there.