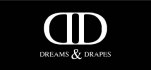 Dreams & Drapes
---
COLVILLE CHECK DUVET COVER SET
The Colville Check Duvet Set from Dreams & Drapes is wonderfully soft thanks to its 100% brushed cotton fabric. This tonal bedding will add a cosy feel to any room and its reversible design gives you the option of traditional check patterning or a cute repeat hedgehog pattern.
DERWENT CHECK DUVET COVER SET
Featuring a contrasting fully-reversible design in sumptuously soft 100% brushed cotton, this cosy bedding set is ready for chillier nights. One side is richly patterned classic checks while the other is a woodland evocation of evergreen and wildlife for the year's tail end. The duvet set includes one pillowcase with the single and two with the double, king and super king.
---
SAMIRA DUVET COVER SET
Whatever time of year you sink beneath these covers, the memory of spring and summer blooms is never far away. The richly detailed heritage illustrations are timelessly stylish, while the easy care polycotton makes it a pleasure to drift off to sleep. Dreams & Drapes is a trusted quality UK bedding brand, the Design range presents beautiful printed heritage floral designs and traditionally-styled bedroom furnishings.
SANDRINGHAM DUVET COVER SET
This stunning hand painted, heritage inspired design is the perfect print to brighten up any bedroom. Soft red flowers lie amongst green and stone coloured leaves on a soft cream background. The reverse of the design shows the same print in natural shades to offer two great looks for the price of one.
---
WILD FLORA DUVET COVER SET
Summer blooms lend themselves so well to the skills of the watercolourist, and these delicate specimens reveal the flowers in all their sun-dappled beauty. Manufactured from easy care polycotton, this fully reversible bedding set is a treat for the senses.