---
213104 Canvas Tote
Whether you're dashing to the local greengrocers or browsing the town market, this sturdy canvas bag has plenty of space to hold all of your things. But it doesn't have to just be a replacement for a plastic bag, we've added some fun artwork so you can style it for the everyday too!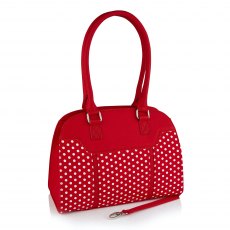 AKITA
The new AKITA bag combines style with "bags" of practicality. This capacious shopper, with its sweet scallop trim, features an adjustable clip on shoulder strap as well as rigid handles, and has plenty of space for everything you need in its three inner pockets. Ruby Shoo AKITA matches perfectly to shoe style HANNAH
---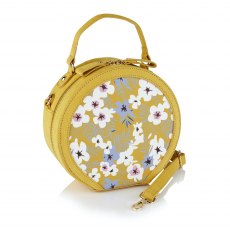 ALBERTA
Versatile new ALBERTA, in a fresh floral print, teamed with toning faux suede, will take you anywhere. With a padded carrying handle and detachable, adjustable shoulder strap, and fastening with a twin zip, Ruby Shoo ALBERTA matches perfectly to shoe style VALERIE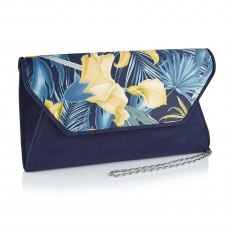 DEIA
DEIA is back for summer, in a stunning Hawaiian palm print teamed with classic navy faux suede. Featuring a detachable chain strap, and an inner pocket with the signature Ruby Shoo logo badge, Ruby Shoo DEIA matches perfectly to shoe style EDEN
---
Dibley Printed Canvas Cross Body Bag
Choose this practical but stylish Dibley Navy cotton cross body bag this season and complete your outfit with a user friendly bag packed full of lovely little details. The Dibley is a hard wearing cross body bag, simple yet stylish bag that you'll be able to pack full of essentials for a day out
Foldaway Canvas Shopper Chalked Blooms Waterfront
This pretty and practical Canvas Shopper is strong and durable, with webbed handles to make it easy to carry by hand or over your shoulder. It folds up small into its own coordinating pouch when it's not being used, so it won't clutter up your kitchen and if it gets grubby, just pop it in the washing machine. Great for grocery shopping, trips to the beach and more.
---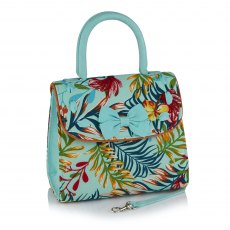 SANTIAGO
Pretty SANTIAGO returns for summer in a bold Hawaiian print in shades of blue, accentuated with pale blue and burnt orange faux suede and featuring a sweet threaded bow trim. With hidden magnetic closure and optional shoulder strap, Ruby Shoo SANTIAGO matches perfectly to shoe style WILLOW
TBLISI
New TBLISI features classic lines, teamed with a pretty pastel metallic brocade, and faux suede. The pleated flap is finished with a metal touch fastener, matching the Ruby Shoo logo badge on the inner pocket, and the bag features a detachable chain shoulder strap. Ruby Shoo TBLISI matches perfectly to shoe style LIZZIE.
---
TIRANA
In matching shades of satin, lace and faux suede, the TIRANA clutch bag oozes elegance. With its detachable chain strap, magnetic closure and signature logo badge on the inner pocket, Ruby Shoo TIRANA matches perfectly to shoe style CHRISSIE