---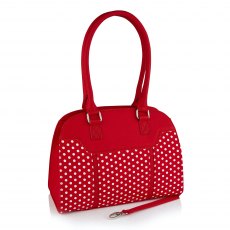 AKITA
The new AKITA bag combines style with "bags" of practicality. This capacious shopper, with its sweet scallop trim, features an adjustable clip on shoulder strap as well as rigid handles, and has plenty of space for everything you need in its three inner pockets. Ruby Shoo AKITA matches perfectly to shoe style HANNAH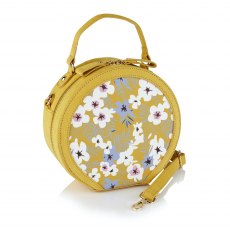 ALBERTA
Versatile new ALBERTA, in a fresh floral print, teamed with toning faux suede, will take you anywhere. With a padded carrying handle and detachable, adjustable shoulder strap, and fastening with a twin zip, Ruby Shoo ALBERTA matches perfectly to shoe style VALERIE
---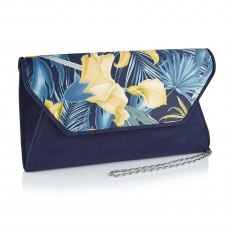 DEIA
DEIA is back for summer, in a stunning Hawaiian palm print teamed with classic navy faux suede. Featuring a detachable chain strap, and an inner pocket with the signature Ruby Shoo logo badge, Ruby Shoo DEIA matches perfectly to shoe style EDEN
Halle Textured Cross Body
Ready to hold your essentials in style, slip this Halle cross body over your shoulder and you're ready to go and enjoy your weekend. This graphic weave is beautifully soft and textured and it includes all manner of compartments, so that you can organise your bits safely in the knowledge that the chunky zips will keep everything secure. Other features include: Adjustable shoulder strap, Embossed Weird Fish logo, Exclusive Weird Fish weave. In a classic navy and ecru colourway, this Halle bag is perfect for styling alongside your Weird Fish wardrobe this summer. Warning: if you buy this bag as a present for someone it's highly likely that you'll end up keeping it for yourself. It's just too good!
---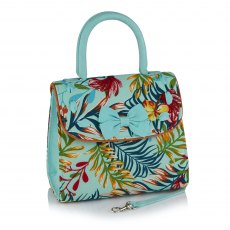 SANTIAGO
Pretty SANTIAGO returns for summer in a bold Hawaiian print in shades of blue, accentuated with pale blue and burnt orange faux suede and featuring a sweet threaded bow trim. With hidden magnetic closure and optional shoulder strap, Ruby Shoo SANTIAGO matches perfectly to shoe style WILLOW
TBLISI
New TBLISI features classic lines, teamed with a pretty pastel metallic brocade, and faux suede. The pleated flap is finished with a metal touch fastener, matching the Ruby Shoo logo badge on the inner pocket, and the bag features a detachable chain shoulder strap. Ruby Shoo TBLISI matches perfectly to shoe style LIZZIE.
---
TIRANA
In matching shades of satin, lace and faux suede, the TIRANA clutch bag oozes elegance. With its detachable chain strap, magnetic closure and signature logo badge on the inner pocket, Ruby Shoo TIRANA matches perfectly to shoe style CHRISSIE