---
Adventure Applique Top
Frugi have created the perfect companion for your little one's playtimes with this long-sleeved Adventure Appliqué Top. Ideal on cooler days, the organic cotton of this top for babies and toddlers ensures that it's warm, cosy and has no nasty chemicals. Plus, on sizes up to 4 years, there are popper fastenings on the shoulder for fuss-free dressing. Soft, warm and kind to delicate skin Long-sleeved Sizes 0 to 4 years: Popper fastenings on the shoulder for easy dressing PLEASE NOTE: The back of this top is plain GOTS Organic Certified by Soil Association Certification
ALLIE THE GIRAFFE TOP
How cute is this Allie the Giraffe top? A mint-coloured top with an orange Allie the Giraffe print on the front!
---
AVERY APPLIQUE TOP
Your little one will love the bright and colourful characters on the front of the brand NEW Avery Applique Top, with either wiggly zig-zag trims, playful pom-pom detailing or fun 3D features! Made from super-duper soft and cosy organic cotton with a touch of stretchy elastane in the rib neck band for extra comfort and a great fit.
BOBSTER WRAPAROUND T-SHIRT
The fun and colourful Frugi character appliqué on this Bobster Wraparound T-shirt goes around from the front to the back to bring a smile to your little one's face! It's crafted from 100% organic cotton, making it amazingly soft and gentle against delicate skin, with no nasty chemicals. Plus, there's an envelope neckline so that it can be easily pulled down the body instead of over the head - perfect for mucky pups!
---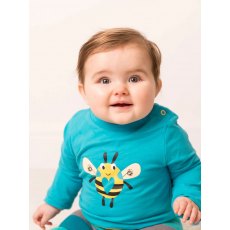 BUZZY BEE TOP
This buzzy bee is almost as cute as your busy bee! A bright teal top with a yellow bee design, it's wearing it's heart for all to see.
Easy On Top
Frugi have crafted this long-sleeved top for babies and toddlers from organic cotton to make it super-duper soft, snuggly and gentle against the skin. And, to ensure it lasts adventure after adventure, we've included extendable sleeve cuffs that unfold to allow the top to grow with your little one. But that's not all. The stretchy V-shaped neckband makes dressing your little one as fuss-free as possible - with no fiddly button or popper fastenings. Soft, warm and kind to delicate skin Easy dressing: Stretchy V-shaped neckline Grow with me: Extendable cuffs Long-sleeved GOTS Organic Certified by Soil Association Certification
---
FLYING UNICORN TOP
It's a magical, mystical, flying unicorn, and most importantly, it sparkles. This pale pink top is guaranteed to cause squeals of delight, and we predict a lot of arm-flapping whilst pretending to be this Pegasus.
HIGHLAND COW TOP
This top selling Highland cow top, features a super soft fleece on the nose of this favourite character. Inspiration for this design came from the friendly Highland Cows that live right next to the Blade & Rose office.
---
LIA APPLIQUE TOP
Make dressing your little one in the morning a dream! This short-sleeved Lia Appliqué Top has clever, stretchy elastic in the back of the neckband. And to ensure they're wonderfully cosy throughout any adventure, this short-sleeved t-shirt for babies and toddlers is crafted from snuggly soft organic cotton, with no nasty chemicals.
MAPLE THE DIPLODOCUS TOP
This long-sleeved top has Maple appliqued on the front. In a bold royal blue, this set is sure to make your little one roar!
---
MONSTER TRUCK TOP
Start your engines for this monster truck top! A red top with a cool, yellow monster truck print on the front.
PETER RABBIT MODERN MIX TOP
Ready for playtime with Flopsy, Mopsy, and Cotton-tail? Your little one will have so much fun in this blue Modern Mix top with a Peter Rabbit applique on the front.
---
PETER RABBIT PRETTY GARDEN TOP
Playtime in Mr. McGregor's garden? Be careful he doesn't catch you! Little ones will love these pink Pretty Garden top featuring a Peter Rabbit print on the front.