Fisher Price
---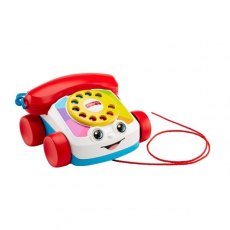 FISHER PRICE CHATTER PHONE
With its friendly face, spinning dial, fun ringing-phone sounds, and eyes that move up and down as you pull it along, the Fisher-Price Chatter Telephone helps get your baby chatting-and strolling-like a pro!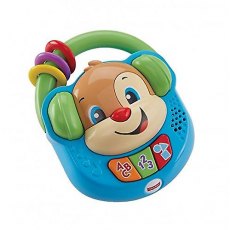 ---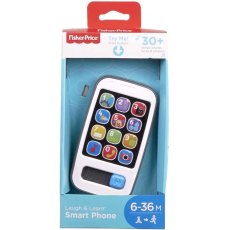 FISHER PRICE SMART PHONE
A fresh, sleek phone, just for baby! Press any of the "app" tile buttons to hear more than 20 learning songs and phrases about numbers, counting, greetings and more.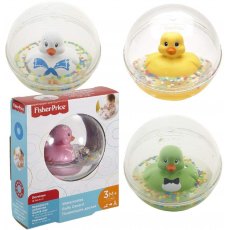 ---
FISHER PRICE ANIMALS SEE & SAY
Go wild with this fresh spin on a playtime classic featuring kids' favorite Little People® pals! From the farm and into the wild, the Little People® World of Animals See 'n Say® is opening up the world of the animal kingdom to introduce kids to the names and sounds of a wide variety of creatures. With two exciting pages—one dedicated to farm animal friends and one for exotic wild beasts—this spin on the classic See 'n Say® will ignite their curiosity while boosting those all-important fine motor skills. To start the learning fun, select a page, then point Eddie™ to an animal and pull the lever to discover its name and hear what it says! Little learners can even put their knowledge to the test with a stimulating quiz mode! Simply point Eddie™ to the question mark, pull the lever, and the See 'n Say® will ask your toddler to find a chosen animal. Kids then spin the arrow to point to their answer and pull the lever to find out if they're right! For musical fun, point Eddie™ to the music note, where your toddler will delight in silly songs about the animals on both pages. Where development comes into play™ Fine motor and sensory: Toddlers boost dexterity as they move the arrow and pull the lever to hear different sounds. Cognitive: Build their sense of wonder as they discover new animals and learn the animals' names and sounds! Social/emotional: Kids can gain confidence as they test their knowledge about their new animal friends in quiz mode.
FISHER PRICE BATH SQUIRTERS
Includes zebra, lion, elephant and monkey. The bright colors and textures give baby lots to explore. The chunky size is easy for little hands to grasp, squeeze & squirt. Ages 6 Month +
---
FISHER PRICE CHATTER PHONE
With its friendly face, spinning dial, fun ringing-phone sounds, and eyes that move up and down as you pull it along, the Fisher-Price® Chatter Telephone® helps get your baby chatting—and strolling—like a pro!
FISHER PRICE CORN POPPER
Get ready for ball-popping fun, baby! As your baby pushes the Corn Popper® toy along, the brightly colored balls excitedly pop around, encouraging your little cruiser to keep going. And the faster your baby goes, the faster the poppity-pop action! Where development comes into play™ Gross Motor: Little muscles get a big workout as your baby pushes the Corn Popper® toy along. Sensory: Bright colors and exciting popping sounds stimulate your baby's developing auditory and visual senses. Curiosity & Wonder: Little ones are introduced to cause & effect as they discover how to make the balls pop around by pushing the toy along.
---
FISHER PRICE LIL SNOOPY
Your child's very first puppy! Pull this friendly little Snoopy along and watch what he do! He'll turn his head, wiggle his ears, shake his tail and bark! He's just like a real dog! Pretending to take Lil' Snoopy for a walk—grasping the leash and pulling him along—will help develop fine and gross motor skills as well as the power of imaginative play. Give them ideas about other ways they can take care of Lil' Snoopy, like providing a pretend water or food dish. It's good preparation for the day when they may ask you for a real puppy!
FISHER PRICE ROCK A STACK
The Fisher-Price® Rock-a-Stack® toy is classic, colorful fun for your little one! Younger babies will love grasping, holding, shaking and exploring the five colorful rings. The littlest ring has a shiny, reflective surface for baby to discover inside—with colorful, swirling beads that make fun rattle sounds! When they're ready to sit and stack, babies can place the rings on the post, then bat at the wobbly base to make it rock back and forth. Stacking helps them develop hand-eye coordination and introduces them to the concept of relative size as they learn to sort and stack from biggest to smallest!
---
FISHER PRICE SILLY SOUNDS PIANO
With four ways to play, the Fisher-Price® Silly Sounds Light-Up Piano keeps your mini-musician busy 'composing' and learning all playtime long. As your baby presses the keys of this light-up piano, they're rewarded with either real piano notes, delightful duck sounds, silly cow sounds, or playful songs and phrases about colors, numbers, and shapes! And with an easy-grasp handle, you can take the silly musical fun wherever you and your baby go!Where development comes into play™Academics: Playful songs and phrases introduce little ones to the alphabet, colors, shapes, counting, and more!Thinking Skills: Pressing the keys to hear songs, sounds, and piano notes with colorful lights introduces your baby to the fun of cause & effect play.Fine Motor: As your mini-Mozart progresses from batting at the keys to using their little fingers to push each key, and grasping the slider to move it back and forth, they're strengthening dexterity and hand-eye coordination.
FISHER PRICE TRUMPET RATTLE
Your little one will love grooving to the fun rattle sounds, watching the bright beads swirl around in the clear dome, and teething on the chewy "mouthpiece." The handle is baby-sized to make it easy for even the teeniest-tiny ones to shake it or take their music on the road! Where development comes into play Sensory - The rattle sounds and bright colours help engage baby's senses of sight and hearing. Fine Motor - Grasping and shaking the trumpet help foster eye-hand coordination and motor skills.