Footsies
---
FOOTSIE BALLERINA W/GRIP
With an extra low cut top absolutely perfect for ballet pumps and other low, deep fronted shoes, twin pack Charnos Ballerina Footsies, with heel grip to securely keep them in place on the foot, are next to invisible in most uses. They have a silky feel and natural, but opaque, tone that helps you easily camouflage them should you even need to. The silicone grip inside the heel is essential to prevent this kind of socklet from riding underfoot during wear. Toes are kept seamless for added comfort. Another great feature is the Sanitized® Actifresh treatment that Charnos has given their Ballerina Footsies, which prevents the growth of odour-causing bacteria to keep feet fresher for longer.
---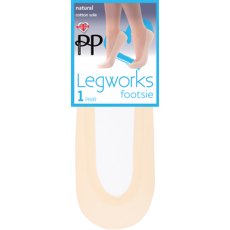 Legworks Footsies With Cotton Sole
Super low cut footsie. Laser cut with a bonded edge for a smooth finish. Silicone around the edge to keep your footsies in place. Cotton sole for freshness and comfort.