RUSSELL HOBBS ELECTRIC CARVING KNIFE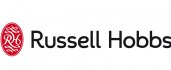 Item: 13990
The Russell Hobbs 120W Carving Knife features a 203mm serrated blade to help you get through those tough joints of meat!

1 review

Unavailable
Product Description
With a comfort grip handle, a convenient thumb tip control button and power and blade release buttons this carving knife is sure to be hassle free and safe to use. Its easy wrap cord storage will also help to keep your kitchen cupboards tidy!
---
120 Watts
203mm stainless steel serrated blade
Comfort grip handle
Convenient thumb-tip control button
Convenient power and blade release buttons
Easy wrap cord storage
Custom Delivery Required
Delivery price on application.